"Dr. Aygün has performed more than 13.000 egg retrieval procedures in the last 7 years: an almost unattainable feat.''
"Patient happiness represents the real success rate."
Dr. Melih Aygün has been working as an infertility specialist, and obstetrician & gynaecologist for more than 24 years. After obtaining medical degree in Turkey and doing his residency in Obstetrics and Gynaecology, he continued his studies in the Department of Gynecological Endocrinology and Reproductive Medicine of the University of Vienna, where he had the opportunity to combine different disciplines together and gain significant international experience. He holds a board certification for assisted reproductive technologies and treatments, and his professional experience comprises working in reputable IVF centers in Turkey. He is renowned for promoting a gentler approach to fertility, offering couples the best chance of success while helping reduce the emotional and physical burden associated with infertility treatments. His methodology includes both low-tech and more progressive technology processes.
He professes an honest, ethical approach and ensures his patients have realistic expectations from the onset of the treatment.
Today, he combines his expertise with that of his brother, Mehmet Aygün, a perinatology specialist. Both of them work at the Erasmus Fertility and Women's Reproductive Health Center, which they established in 2005. Using state-of-the-art technologies, He guides his patients through the entire process, from preconception until delivery.   
Dr. Melih Aygün is married and has three children.                                                        
He speaks German and English.
Message from Dr. Aygün
"I feel incredibly grateful to be a part of so many couples' journey into begetting their own children."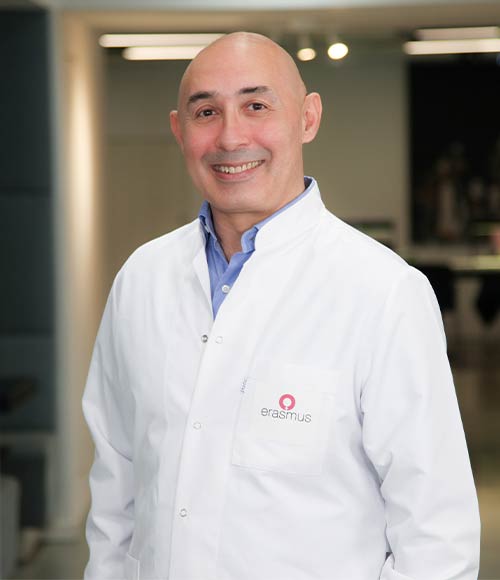 FERTILITY TREATMENTS & SERVICES

FERTILITY Evaluation
The first step in any fertility journey is our fertility assessment.
Ultrasonographic examination, hormones, semen analysis, hysterosalpingography, genetic analysis, serology
IVF/ICSI
In vitro fertilization/intracytoplasmic sperm injection
Involves hormone injections to stimulate ovaries, egg retrieval, fertilization and cell division, embryo transfer and embryo freezing
PGD/PGS
Preimplantation Genetic Diagnosis / Screening
Genetic testing on blastocyst stage embryos including a trophectoderm biopsy, in conjunction with an IVF/ICSI cycle, prior to implantation.
PGT-A
PGT-M
EGG Freezing
"owning your future"
Freezing eggs for fertility preservation with utiling assisted reproductive technologies
REPRODUCTIVE Surgery
Check reproductive congenital or acquired abnormalities leading infertility such as polyps, cyctes, endometriomas, fibroids, adhesions...etc.
Hysteroscopy
Laparoscopy
Laparotomy
Myomectomy
MALE Infertility
Evaluation of male infertility
Collaborating with the most experienced urologists specialized for male infertility:
Micro-TESE
TESA
MESA
PESA
INFERTILITY Treatments IUI
IUI (Intrauterine Insemination)
Folliculometry
Ovulation induction
Medical treatments
STATE OF ART TECHNOLOGIES
Intend to re-awake egg maturation and development within the ovary in order to achieve pregnancy in women with Premature Ovarian Insufficiency (POI).
Modified Ovarian injury
Foods&Supplements
Genetic testing of embryos can increase chances for having a successful pregnancy without a specific genetic condition or chromosomal abnormality.
PGT-A for aneuploidy
PGT-M for single gene disorders
NGS (Next-Generation Sequencing)
Blastocyst stage embryos (day 5) have better implantation rates:
better embryo–endometrium synchrony
Identifying embryos with development potential.
EMBRYO FREEZİNG / VITRIFICATION
Frozen Embryo transfer has high pregnancy rates with less potential complications in comparison to fresh embryo transfer.
Continuous monitoring of embryo development from day 1 to day 5 helps to select the best embryo.
Observation of spermatozoa by High-magnification microscope:
Selection of the better quality sperms improve the pregnancy rates and lower the miscarriage rates.
It is the revolutionary male infertility treatment. On the experienced hands, it yields the highest sperm retrieval rates in non-obstructive azospermia (NOA).
This new method probably allows natural sperm selection and the better DNA quality sperm for IVF/ICSI.
GYNAECOLOGICAL ENDOCRINOLOGY
MENTRUAL PROBLEMS
HIRSUTISMUS
ACNE
PCOS (POLYCYSTIC OVARIAN SYNDROME)
WOMAN HEALTH CHECK UP
MENOPAUSE
INFECTION
PAIN/ENDOMETRIOSIS
FAMILY PLANNING
SURGERY
GYNAECOLOGICAL OPERATIONS
REPRODUCTIVE SURGERY
PREGNANCY FOLLOW-UP
PERINATHOLOGY
DELIVERY
"Everything you can imagine is real."
Pablo Picasso
UNIQUE
"Feeling comfortable with your treatment and hopeful about the future is our mission"
Not all patients will need IVF services.
State-of-the-art facilities
Creating bespoke treatment plans and responding to individual patient or couple needs.
Providing an environment where you can feel confident asking questions, expressing concerns, and openly discussing procedures.
Avoiding a "production line" feel in any infertility center.
Maximizing your chances of having a healthy baby while minimizing the stress.
Knowing your care will be directed by Dr. Melih Aygun from beginning to end.
SUCCESS
"Real success rate is happy patients".
Reasons of our success:
All of the examinations are performed only by one specialist.
Committed to treating in compassionate manner
Involving state-of- art technology and procedures
Long experience and wide knowledge
EXPERIENCED
"Over 13.000 egg retrieval procedures during IVF treatments in the last 7 years;
an almost unattainable experience."
Board certificated specialist for IVF treatments and 23. years experience of ART.
National work experience in most successful ivf centers
Internatianal work and fellowship experience speaking English and German
A part of more than 5000 babies have been born through fertility treatments
Over 13.000 egg retriveal procedures during IVF treatments in last 7 years
Developed high expertise in the successful egg retrieval procedure with the lowest complication rates in IVF
"Miracles comes through in this city throughout the history''
O. Pamuk, Istanbul